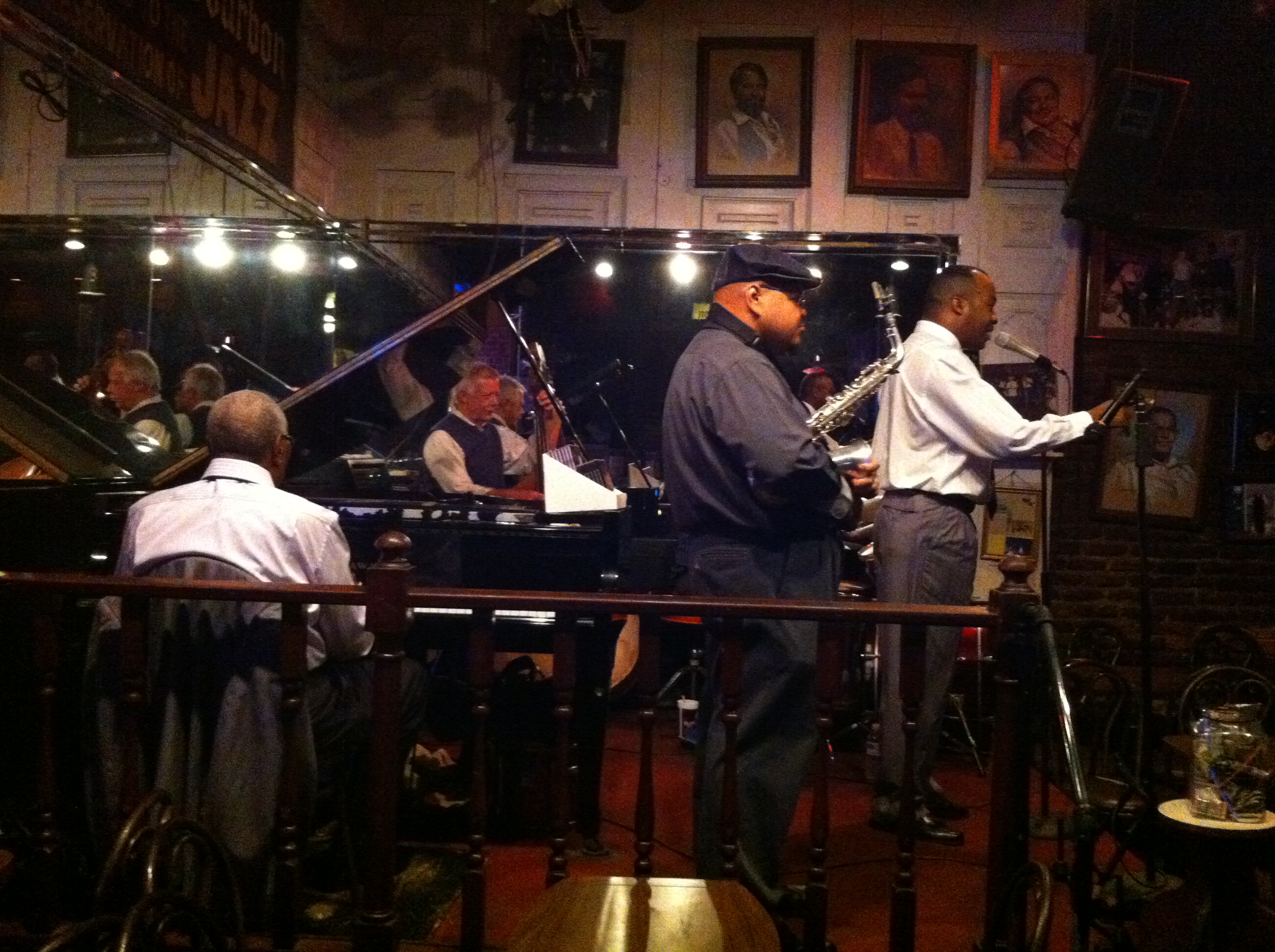 If I were to be pushed into declaring a stand-out café, a one-off port-of-call, it would not be difficult to respond. Kaldi's at 941 Decatur Street in New Orleans would be my choice. Sadly it is no more. I visited this Bohemian 'coffeehouse coffeemuseum' several times during its existence from 1990 to 2000 (word is, its 10-year lease ran out and the landlord wanted to double the rent, causing its closure). Its physical properties were striking: it was littered with coffee-making equipment, old and new, with bags of beans scattered amongst its denizens. It had its own compulsory American-style narrative:
a goatherder named Kaldi who worked on the hillsides of Yemen one day tried the red beans that seemed to energize his goats; he too was renewed, an outcome not lost on the local monks who observed it all; the monks experimented by soaking the red beans in water and drinking the broth, an expedient that kept them awake during prayers; and the rest can be imagined …
Kaldi's was described as 'the living room of the French Quarter' by Jim Smith. You were certainly at home with newspaper, book, notepad or laptop. The clientele were like-minded. We Scamblers all loved it.
Of course New Orleans was and remains a Mecca for coffee drinkers, even post-Katrina. It is a uniquely 'European' American city. Any excuse to return will do for me: I once flew in to give a 10-minute presentation to a gathering of the Southern American Sociological Association (and to hang out with sociologists from Emory University). Founded in 1718 by Frenchman Jean Baptiste Le Moyne Bienville, New Orleans was ceded to the Spanish in 1763. Fire destroyed 80% of its buildings in 1788, leading to a Spanish re-build; hence its blend of French, Spanish and – following the Louisiana Purchase in 1803 – American architectural styles. The French Quarter largely survived Katrina's assault in 2005 and was in any case a political and commercial priority for reconstruction. Much else in New Orleans was lost: our black taxi driver in March 2012 told us fully a third of the back population had left in the wake of Katrina and not returned. Bush and his cronies should hang their heads in shame for the tacit racism of their non-engagement. But for the visitor, the French Quarter remains replete with its customary third places.
There are cafes aplenty besides the late Kaldi's. Café du Monde, as noted for its beignets as for its café au lait, has been omnipresent since 1862. It was the original coffee stand in the French Market and is open all day every day (excepting Christmas Day and when there is a severe hurricane warning). But it is not good for writing: too crowded with tourists and visitors and too messy until late in the evening. There are other and better options for the laptop-afflicted.
I will not list more cafes (there are guidebooks to do that), but instead discretely mention alternative third places. For those unfamiliar with Ray Oldenburg's terminology, the first place is home, the second place work and the third place 'somewhere people hang out together'. Third places, he argues, are precious and threatened, at least in the USA, by developmental change: the imperative to drive, out-of-town malls and so on (see my blog on Habermas, civil society and the public sphere). Bars can be third places. And New Orleans' French Quarter is not short of options. During our last visit Annette and I found a light and amicable Coffee Community House close to our hotel on Royal Street, but it was not open late. Parallel to Royal Street is Bourbon Street, which is always open, indeed permanently rent at the seams. Interspersed with multiple happy-hour-oriented bars and clubs, cabarets and strip-joints, its customers spilling over into the pedestrian-only, alcohol-soaked street, are a handful of wonderful and wonderfully refined jazz venues. It was to these that I occasionally repaired late in the day/early in the morning, MacBook Air concealed in an old carrier bag. The skill of the jazz players – and the conversation to be had in passing – always seemed at odds with the mayhem outside. And yet: these players' ancestors once famously thrived in these same conditions just north of here in Basin Street and the old red light district of Storyville. Buddy Bolden, Bunk Johnson, Sidney Bechet, Jelly Roll Morton, Kid Ory and Joe 'King' Oliver (whose band Louis Armstrong joined), supreme artists all. That's jazz I guess.
I was an incongruous presence I am sure, 'working' while absorbing the jazz as if by osmosis. But I love this kind of incongruity and find it productive. (I was equally content in the early hours in a 24/7 casino in Melbourne until asked to leave because of a ban on laptops – as if I had the skills to hack into their systems.) The two photos here are of the bars I inhabited in New Orleans, lapping up in each a companionable solitude that enabled me to think and write with purpose. The jazz, as always seems to be the case in New Orleans, was way beyond competent. I can work to jazz, but not to other forms of music.
So New Orleans is my preferred haven for cafes, bars and other third places. But there are and will always be cafes and third places elsewhere.