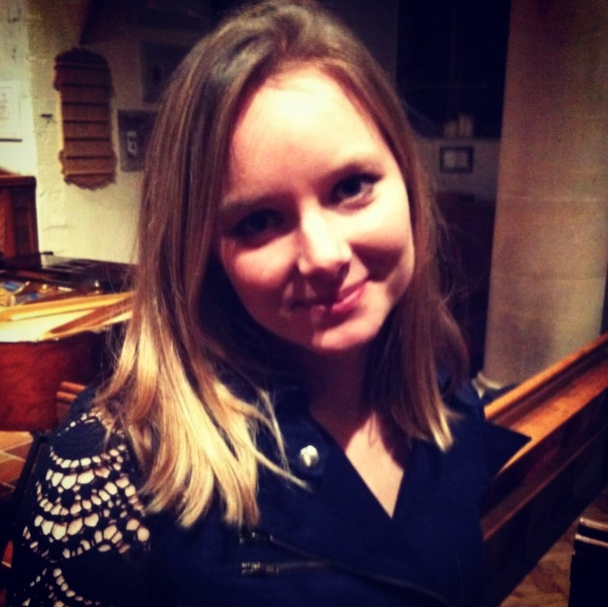 When I was asked to write a few words on Georgie 'Rose' Kennington's performance in St Michael's Church I was apprehensive: after all I am no music critic! But I assented for two reasons. First, I had thoroughly enjoyed the evening's programme; and second, if I know anything at all about music, then it's about jazz. If it hadn't been mentioned in advance I might even have picked out the influence on Georgie's repertoire and delivery of the likes of Ella Fitzgerald, Madeline Peyroux and Anita O'Day. So here goes.
That the Church was full at 7pm on 24 March on what might as well have been a deep winter evening was a tribute in itself to this local singer (her initial performance was in St Michael's aged seven). But a solo performer, albeit one backed by two impressive musicians, is starkly exposed. She has to do justice to herself, her voice and to the songs she has chosen. Beginning with Don't get around much, and following up with the classic Body and soul, she demonstrated a range, assurance and control that boded well for the programme as a whole.
Whether it is easier or more difficult to interpret 'old favourites' is perhaps a moot point. I can only pick out one or two here. Wave was followed by Stormy weather, a choice surely everyone in the audience knew and welcomed. Written in 1933 by Arlen and Koehler it was first performed by Ethel Waters at the famous Cotton Club in Harlem in the same year. You can hear Lena Horne's and (my favourite) Billie Holiday's versions on YouTube. Georgie held her own with something to spare. The standard was maintained through Those sweet words, My funny valentine and Blame it on my youth. Another classic came next: Bye bye blackbird. This dates back to 1926, was written by Henderson and Dixon and is associated with the renderings of Eddie Cantor. Again, Georgie did a popular song – even I know many of the lyrics – full justice. Cold cold heart, Spring can really hang you up the most and Careless love (which I particularly enjoyed) were their own invitation for an encore. On cue, the evening closed with Cole Porter's Too darn hot. Written for 'Kiss Me, Kate' in 1948 and most notably recorded by Ella Fitzgerald, Georgie seemed to 'let go', to invest what she had left to offer. It was an impressive and entirely fitting ending to a delightful programme.
Georgie's vocals were enhanced throughout by the contributions of her fellow musicians, James Hill on double bass and Ed Blunt on piano (whose own emerging careers speak for themselves); both showed their talents in brief solos as well as in their expert backing. This is a good trio. As for Georgie, she sang as I had suspected she could but had not heard before. This was not a routine 'going-through-the-motions' gig. She was not hesitant, nor did she falter. She not only completed the challenging programme she had set herself, but to my ears – better tutored in jazz than in other genres – she gave evidence of something extra. It is of course one thing 'to be able to sing well' and quite another to translate a natural facility into a performance that an audience will pay to see and enjoy, let alone make successful recordings. Gradually and almost imperceptibly through the evening Georgie grew and gave herself up to her lyrics (offering us a truly embodied sound). I thought I detected in her vocalising too, perhaps most forcefully in Too darn hot, a willingness to improvise, to experiment. Georgie 'Rose' Kennington can go places.
If I was to summarize 24 March? With the preparation Georgie is putting in, the construction of spoken 'narratives' to bind programmes of songs together, diligent networking or 'politicking', and the luck that all performers need, I am convinced that Georgie can make her mark in the jazz world. All those present will wish her well.
Graham Scambler.