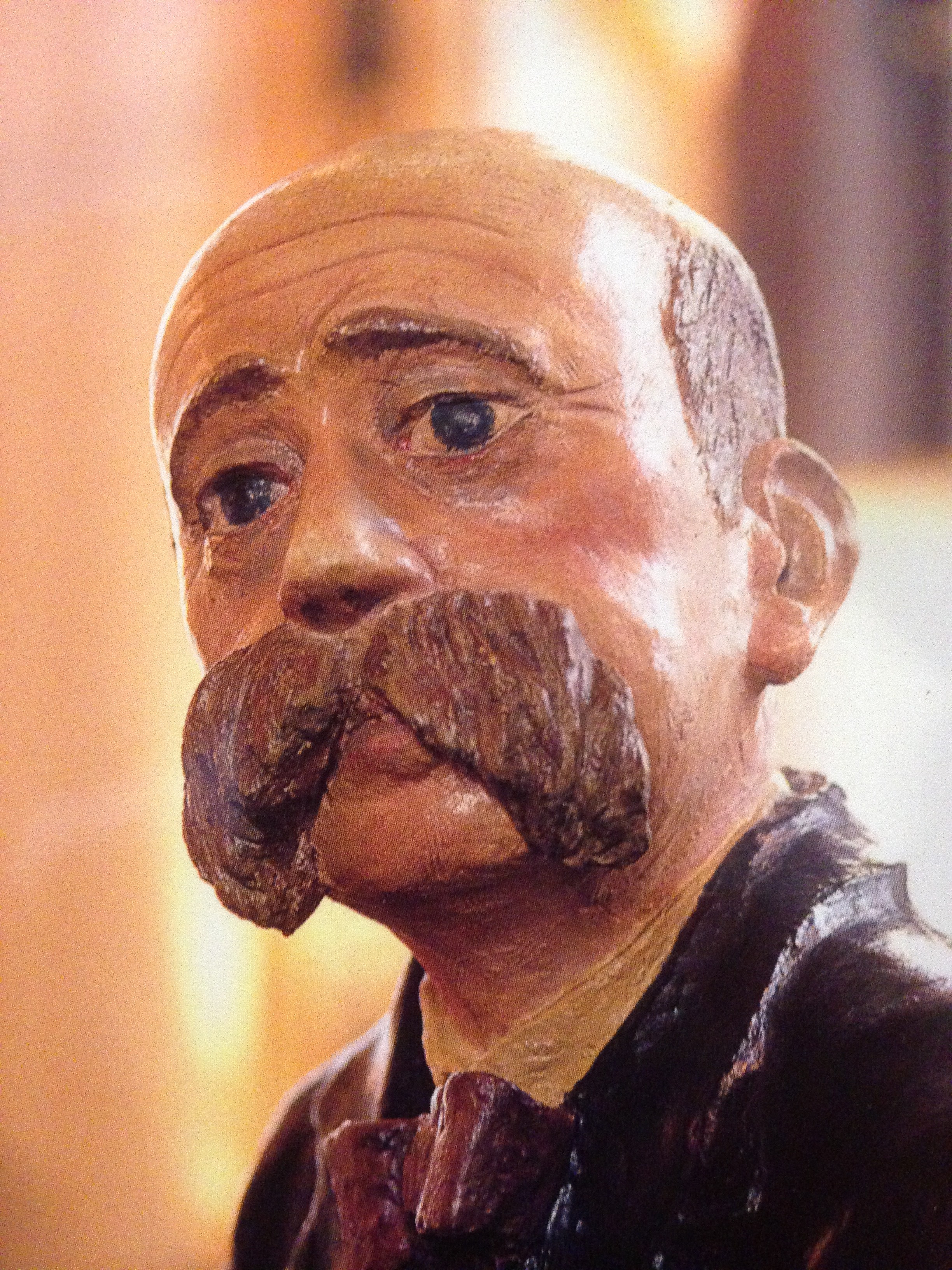 There are cafes outside the normal run. They make a mark and become cultural signifiers. I have lucky enough to sample a few. Café Dorian in Venice I might return to; Oslo's Grand Café, visited in November 2013, is another. But this blog is committed to another historic space, Vienna's Café Central. I had long aspired to visit a Viennese Kaffeehaus, having formed in my mind a sense of its interior. I anticipated large, dimly lit spaces with brown leather armchairs dotted here and there, each containing an elderly man either rifling through a pile of newspapers or dozing contentedly. I was quite wrong.
When Annette and I eventually made it to Vienna we managed to survey a number of celebrated cafes. If the Café Central was not our favourite, it certainly commanded attention. Vienna itself dates back over 10,000 years and Palais Ferstel and its Café Central is located in one of its oldest neighbourhoods; but it was not Vienna's first café.
The first Kaffeehaus was opened in 1685, courtesy of an Armenian merchant, Johannes Diodato, who had been granted an exclusive 20-year right to serve coffee by Emperor Leopold I earlier that year (the first public coffee house not depending on an Imperial concession was opened in 1697 by another Armenian, Isaak de Luca). By the start of the eighteenth century the premier and most 'elegant' café was the Milani on Kohlmarkt; and by 1784 there were no fewer than 64 coffee houses in Vienna. The decade after the 'year of revolutions', 1848, marked the heyday of the Viennese café: their number was 140 (plus 71 surrogate coffee houses, which were not allowed to serve bean coffee but ersatz coffee made of cereal or chicory). A further factoid: in 1849 Michael Thonet began the manufacture of bentwood furniture, the most famous item being the Thonet chair no. 14 'with wickerwork seat' (of which 50 million had been produced by 1930). Café Central is furnished with Thonet furniture. From the 1850s also women started frequenting Vienna's coffee houses.
In 1857 Emperor Franz Joseph I decided to develop the inner city area. A resulting masterpiece was the bank and stock exchange building, opened in 1860: the architect was Heinrich von Ferstel. In 1876 the Pach brothers opened the Café Central in the ground floor rooms of this building. It rapidly became a magnet not only for the nobility and prosperous but for scholars, artists, politicians, writers, journalists and so on. In short, it usurped its rivals.
Now here are data that stun. Who was to attend Cafe Central? Here's a kick-off, in the words of Andreas Augustin:
'Over there is Baron von Schonerer, known for his Pan-German ideas. At the neighbouring table, Thomas Masaryk is drinking his 'Melange' coffee: in a few years time he will become the first president of the Republic of Czechoslovakia. The bearded man studying the daily newspaper is Theodor Herzl; the 'founder of Zionism' has just published his book on the Jewish state'. Egon Schiele and Gustav Klimt trod in these footsteps. Victor and Alfred Adler …
Lev Bronstein, the alias for Leon Trotsky, was a regular at Café Central, as was his friend, Vladimir Illyich Uljanov (or Lenin). Trotsky lived among Russian migrants in Vienna from 1907 until 1914. A contemporary paints a picture of Trotsky and Victor Adler (founder of the Austrian Socialist Party) deep in conversation at one table, while Lenin and Iosiph Vissarionovich Dzhugashvili (Stalin) worked on their revolutionary manifestos at another.
But none of these ranks as Café Central's most famous client. That honour goes to Peter Altenberg, progeny of a rich, Jewish Austrian family and the very Weberian ideal type of 'the bohemian'. Before his death in 1919 he dipped his toes into many a pool without ever following through. Furnished with a drooping moustache, baggy checked jackets and trousers and a pair of clogs worn all year round as a matter of principle, he was an practiced and eccentric sponger. It is his life-size figure that sits at the entrance of the café now (see the image at the head of this blog).
Another regular was Karl Kraus, publisher and writer. For him Café Central was a workplace. Moreover, as he relates in his Pro Domo et Mundo, he had very specific requirements:
'Sitting alone at a table does not satisfy one's need for solitude. There must be empty chairs standing around. If the waiter moves away a chair that no one is sitting on, I feel a vacuum, and it awakens my gregarious nature. I cannot live without empty chairs.'
As the twentieth century unfolded, illustrious names continued to frequent Café Central, as, increasingly, did tourists. Dramatist, essayist and narrative writer Alfred Polgar developed his 'theory of the Café Central' there (this is discussed in Café Society, published in 2103, which I edited with Aksel Tjora). He also coined the term Centraliste, meaning himself and other regular guests:
'The Café Central is located below Vienna's latitude on the meridian of solitude. Its inhabitants are mostly people whose hostility to man is as great as their desire to be with people who want to be alone but who need company to do so.' His philosophy more closely suits me than does that of Kraus, but more of this later.
Like Austria four years earlier, Café Central ceased to exist in 1943. Palais Ferstel, however, survived the war. In the 1970s proposals were advanced to turn it into an office and shopping complex. Work began in 1978; and in 1982, in the glass-covered, arched courtyard, Café Central re-opened its doors. Its rebirth was hastened by its hosting of a popular Austrian TV talk show, 'Café Central'. On the 30 October Café Central returned to its original rooms. But the story is not yet complete. In 2001 philanthropist Karl Wlaschek fell in love the with old Viennese Kaffeehaus and decided on an extensive refurbishment. It re-opened – again – in 2002. In 2006 the celebrated Café Central Torte (marzipan meets chocolate and orange).
So what did I make of it (and for that matter Vienna's other coffeehouses, many of them with long and no-less enticing histories)? Sociologically I was fascinated. These salons were less quietly exclusive and more noisily tourist-oriented than the fabrications of my imagination, a thoroughly commendable disappointment I confess. But I would have difficulty working in them: not, like Klaus, because of any specific personal needs; but because, after the manner of Polgar, I like to be alone (I work alone) in the company of others, but others comprising ordinary everyday people going about their business. Café Central's clientele seemed a mix of the local well-off and curious intruders. The cakes were too posh. And as for the waiters! They are apparently famous for a haughty disdain for guests, only serving them when they are ready. Bloody rude I thought. It took forever to pay the bill.